When and why did the demand for Khalistan start to rise?
Demand for Khalistan Mainly in 1946, when the Muslim League and Hinduist organizations demanded a separate country on the basis of religion, only then the Sikh organization Akali Dal raised this demand that the Sikhs should also have an independent nation, for which they created today's Punjab Chandigarh. demand for the Himachal and Lahore parts of Pakistan was kept in Khalistan, which remained buried in the partition of that time.
After that, the demand started rising again in 1977 when Jagjit Singh Chauhan returned to India from Britain and he raised his voice again, not only this, but after continuing on this matter, in 1980, he went abroad and announced the establishment of Khalistan country, also published postal stamps and Khalistani dollars, but the Sikhs of India did not take this thing.
In 1980 when Sant Jarnail Singh Bhindranwala (12 February 1947 6 June 1984) who was the head of Damdami Taksal started by supporting the Anandpur Saheb proposal, then in 1982 Akali Dal and Sant Jarnail Singh Bhindranwala started Dharma Yudh Morcha which that according to him social evils, drugs, and Used to work against the social attacks happening on the Sikhs, although he never demanded a separate country like Khalistan.
1984 Operation Blue Star which was on the holy places of Sikhs Sri Darbar Sahib (golden temple) and Sri Akal Takht Sahib There was a military action taken in which there was a direct encounter between Sant Jarnail Singh Bhindranwala and his organization and the Indian Army and then after the death of Sant Jarnail Singh Bhindranwala.
The anger among the Sikhs which was natural, that their holy place Gurdwara Shri Durbar Saheb and Shri Akal Takht Saheb were desecrated, perhaps the government could have solved or handled this issue in some other way because it was one of the main places of Sikhs, so it was natural for emotions to boil.
While it cannot be denied that even Saint Bhindranwala himself should not have made this place a means of hiding and keeping his ammunition and forces, he only gave this opportunity to the government.
But making Darbar Sahib a shield might not be the right decision. It was After this incident, the government had to face the fury of the Sikhs, and the former Prime Minister Mrs. Indira Gandhi was assassinated after that, as a political vendetta, innocent Sikhs were massacred in Delhi and different parts of the country.
On which the silence of the government looks like there support for all that happened , after this for a decade the entire Punjab was engulfed in the grip of extremism, thousands of innocent people became victims of Administration and misguided youth and groups, irrespective of whose fault it was, the common citizens of Punjab, including people of all religions, who At that time and became a victim of its time cycle.
The people of Punjab and the social organizations of Sikhs pulled Punjab out of this fire, but by then the economic loss of Punjab had become huge, the youth of Punjab became the victim of politics there and Due to unemployment and financial crisis, he became a victim of drugs. Gradually, the space for thoughts like Khalistan also ends.
Why is the demand for Khalistan being raised again?
Now why this voice of Khalistan has started rising again, for a long time some organizations which were keeping this spark alive by fanning it abroad, got a chance when the demand to declare India as a Hindu nation started rising.
And this time the government also did not try to stop it or take any action on it, so people like Amritpal Singh got a chance to air this thing and they argue that if the government gives its tacit support to the demand of Hindu Rashtra How can the demand for Khalistan be wrong, although this argument is valid, but demanding a Khalistanas a saperate country is also not valid, but how and why is this demand getting air, when such a demand is not given much importance among the Sikhs Granted.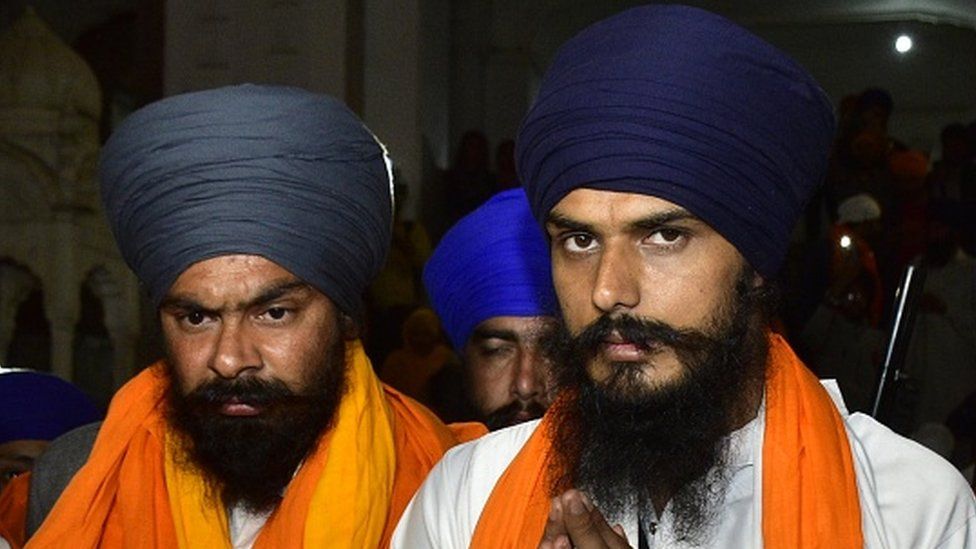 It is not that there is any place for this demand among Sikhs, yes some youths who get misled by people like Amritpal Singh because they speak on such issues which are in the hearts of common people. For example, the demand for water in Punjab, the demand for the release of the captive Sikhs, speaking against drugs.
But so far Amritpal Singh This demand, which was really made for the interests of the common Punjabi, does not seem to have been raised, nor does Amritpal Singh seem to be doing any work that is in the interest of the youth of Punjab.
Whereas in the beginning, one such work in the name of Amritpal Singh, which was probably neither appropriate nor necessary, is the incident of Ajnala, which was not justified in any way, and then the same work was done there which was done by Sant Jarnail Singh Bhindranwala by taking Shri Darbar Saheb as his shield, this time the rebels did it by taking holy Shri Guru Granth Saheb as their shield, Such an act cannot be justified in any way.
Yes if Amritpal Singh runs a campaign against drugs which is non-violent as he says, then maybe Amritpal get more attention for his words , it is also necessary to mention here that Amritpal Singh who is presenting himself as a supporter of Punjab and Sikhs, was running his transport business living in Dubai for the last 6 years, and he never try to join the historical farmer movement, there was no participation of Amritpal Singh or any attempt to come to India and go to the protest site in support of it, even after that today he is sponsoring himself as the head of Waris Punjab De (Amritpal singh) organization , not at the time of its establishment. Nor did he come to India at the time of Deep Sidhu's (founder of Waris Punjab De) death.
And the kind of fierce behavior and thoughts they are trying to make their place among the people, they hardly seem to give any kind of hope and direction to the youth of Punjab and Punjab state I firmly believe that violence of any kind cannot be justified for any reasons.
Why don't I want to see the dream of Khalistan.
Why I do not want to see the dream of Khalistan, the biggest reason for this is that such an idea has never come in my mind, nor have I been able to agree with this idea, because in the concept of country, my country has always been India has been there.
And if the idea of making a country is only religion, then that country cannot progress at any cost, when we are not ready to include anyone within us, then how can other people trust the country? Whenever a country is built only on its religious existence, it is natural for bigotry to reside there.
And by demanding Khalistan, we demand to separate ourselves from our own ancestors, It seems that when Kartarpur Saheb, Nankana Saheb Separated from us, we feel sorry for even today,even today we say this in our prayers.
So how can we pay homage to Patna Saheb, Nanakmatta Saheb, Ritha Saheb, Hemkund Saheb, Manikaran Saheb, Nanded Saheb and many more at the place of our forefathers How can you demand to disassociate yourself from all these places of our Gurus.
Just to fulfill your ego, or some personal intention? may be, I do not want to think of being separated from the places of my Gurus where today I can go and offer my prayers whenever I want, nor can I agree to such views.
and my believe that even the Sikh community does not want this at all, we just need to be careful from such people who are trying to defame the entire community and show them the wrong way to fulfill their ambitions.
Our community respects all religions. Even today people of all religions go to Gurudwaras to show their devotion, the reason is only one that the Sikh community is always known for protecting and serving the people, which is also the message of our Gurus.
I feel that It seems that standing with a demand like Khalistan means leaving the path shown by our Gurus and spreading confusion among the people in the name of Gurus for the sake of our own greed, this will reduce the faith in our community. I believe and this is the reason why I don't want this dream.