KIRAN PATEL'S ARREST IN JAMMU AND KASHMIR
On March 3, 2023, Kiran Patel was arrested in Jammu and Kashmir for falsely presenting himself as an additional secretary in the Prime Minister's Office (PMO). He was detained for impersonating a high-ranking government official and holding meetings with top authorities. Recently, Patel appeared in court after spending 15 days in police custody.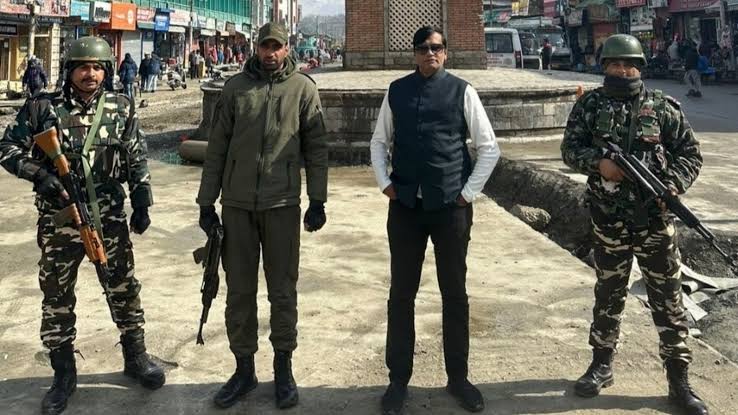 SHOCKING FACTS SURFACE
As social media discussions about Patel grew, so did information about his past frauds. It has been revealed that Patel was previously arrested for fraud and that he cheated a sub-contractor of Rs 1 crore during the Kalanagari Garba Mahotsav in Navlakhi Garba Ground in 2018. Patel and his associate, Dipesh Sheth, were detained in August 2019 by the Raopura police in Vadodara.
According to Twitter user @keetliwado, Patel attempted to scam people out of lakhs of rupees by saying that he had to give a car to the Vadtal Swaminarayan sect. Patel and his brother Manish Patel duped a retired DYSP, NK Parmar in Naroda, out of lakhs of rupees by telling him they wanted to give a car to the Vadtal Swaminarayan temple. Additionally, Patel cheated farmers by promising good returns on their investments in good schemes. When the farmers demanded their money back, Patel threatened them with a false FIR by senior police officers.
DECEITFUL TACTICS
Patel used photos of himself with various big leaders to cheat people. He claimed to be the PA of RSS official Sanjay Joshi or to work for the then Home Minister, Jitu Vaghani. Patel would also get his work done by pretending to know prominent people and would obtain VIP treatment at police stations.
WIFE DEFENDS KIRAN PATEL
Malini Patel, Kiran Patel's wife, has defended her husband by stating that he could not have done anything wrong. She claims that he is an engineer and went to Jammu and Kashmir for development work. She has also stated that their lawyer is handling the matter.
WHO IS KIRAN PATEL?
Kiran Patel has over 1,500 followers on Twitter, and his Twitter bio claims that he is a resident of "34, Meena Baug, New Delhi." Patel also claims to have a PhD from a college in Virginia and an MBA from IIM Trichy. He describes himself as a thinker, strategist, analyst, and campaign manager.
CONCLUSION
Kiran Patel's arrest has brought his past frauds and deceitful tactics to light. It is important to be cautious of individuals who make false claims and obtain VIP treatment by pretending to know prominent people. We should always verify a person's credentials before investing money or conducting business with them.
Disclaimer
This article is for informational purposes only and does not constitute legal or professional advice. The information provided is based on publicly available sources and may not be entirely accurate or up-to-date. The opinions expressed in this article are solely those of the author and do not necessarily reflect the views of Authors or its affiliates. Readers are advised to seek professional legal or financial advice before making any decisions based on the information provided in this article.