LEADER OF INDIA'S OPPOSITION EXPULSED FROM PARLIAMENT: A DEVASTATING BLOW TO THE INDIAN NATIONAL CONGRESS PARTY
On Friday, Rahul Gandhi, one of the last national figures standing in political opposition to Prime Minister Narendra Modi of India, was disqualified as a member of Parliament, sending shock waves across the country's political scene and devastating the once-powerful Indian National Congress party Mr. Gandhi leads.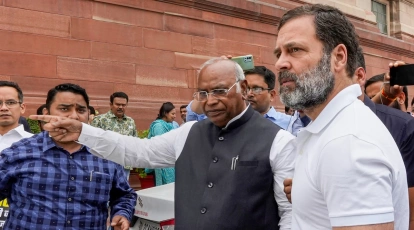 THE CHARGE AND EXPULSION
Mr. Gandhi was expelled from the lower house the day after a court in Gujarat, Mr. Modi's home state, convicted him on a charge of criminal defamation. The charge stemmed from a comment he made on the campaign trail in 2019, characterizing Mr. Modi as one of a group of "thieves" named Modi.
THE AUTOMATIC EXPULSION
Any jail sentence of two years or more is supposed to result in automatic expulsion, but legal experts had expected Mr. Gandhi to have the chance to challenge his conviction. A notification signed by a parliamentary bureaucrat appointed by Mr. Modi's Bharatiya Janata Party on Friday stated that Mr. Gandhi had been disqualified automatically by the conviction itself, per the Constitution of India.
THE IMPACT OF EXPULSION
Mr. Gandhi's expulsion is a devastating blow to the Indian National Congress party, and he and several other politicians are now in jeopardy through India's legal system. The Congress Party is not alone in worrying about the implications for India's democracy that Mr. Gandhi's disqualification poses. With parliamentary elections coming next year, the government's attempts to clamp down on dissent seem to be gaining momentum, other opposition leaders pointed out.
POLITICAL AND LEGAL CHALLENGES
Mr. Gandhi said in a Twitter post on Friday, "I am fighting for the voice of this country. I am ready to pay any price." Mr. Srinivas said the party will fight the expulsion, politically and legally. One of the party's most prominent members, Shashi Tharoor, who like Mr. Gandhi is a member of the lower house in the state of Kerala, said on Twitter that the action ending his tenure in Parliament was "politics with the gloves off, and it bodes ill for our democracy."
CONCERNS ABOUT INDIA'S DEMOCRACY
The string of criminal cases against politicians — though none have been brought against high-profile members of Mr. Modi's Bharatiya Janata Party, or B.J.P. — contrasts awkwardly with Mr. Modi's presentation of India as "the Mother of Democracy" during a global publicity blitz to accompany its hosting the Group of 20 summit meeting this year. Police raids against the BBC's office in India and some of the country's leading think tanks have intensified doubts about the strength of India's democracy. Eliminating the opposition from parliament through the courts might heighten those misgivings dramatically.
CONCLUSION
The expulsion of Rahul Gandhi is a significant development in Indian politics, and its implications for India's democracy are a cause for concern. The Congress Party's political and legal challenges may help to mitigate the impact of this blow, but the government's attempts to clamp down on dissent and the string of criminal cases against opposition politicians are worrying signs. As the country approaches parliamentary elections next year, it remains to be seen how these developments will shape India's political landscape.
Disclaimer
The information presented in this article is based on publicly available sources and is intended for general informational purposes only. The opinions expressed in this article are those of the author and do not necessarily reflect the views ofany organization. The article is not intended to provide legal, political or social advice, and readers should not rely on it as such. The article is also not intended to be a substitute for professional advice, and readers should seek independent advice before acting on any of the information contained in this article. The author and OpenAI do not guarantee the accuracy or completeness of any information presented in this article and are not liable for any errors or omissions or for any actions taken based on the information presented in this article. Readers are solely responsible for their own use of the information presented in this article.